Memorable experience during Dunajec river rafting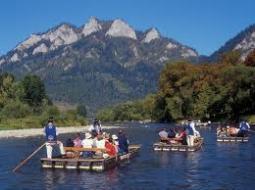 Dunajec is one of the most beautiful rivers, situated in the southern Poland. Flowing through Pieniny Mountains, it makes up a picturesque setting between the village Sromowce Wyżne and Szczawnica town. It also separates Poland from Slovakia. Surrounding the highest tops of Pieniny Mountains, it creates breathtaking settings.
Once you experience the Dunajec river rafting water adventure you will always remember the charm of its unbroken, fresh surrounding.
As local tales inform, the first Polish monarch, Bolesław Chrobry, created the mouth of the Dunajec River using his sword. many legends and stories make this place even more enchanting and likeable for tourism.
Rafting on Dunajec River is strongly rooted in Polish customs, culture and folklore so make sure you donít overlook it! Delight 2-3 hours recreation rafting on 23 km distance.