Go and see Ojcow National Park.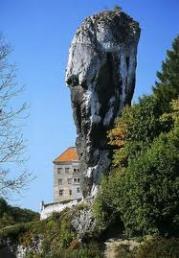 Ojcow National Park is set in the neighbourhood of Krakow region, about 15 minutes away by car, inside the Jurrasic Krakow-Częstochowa highland. Although it's one of the smallest Polish green regions, the charm of its setting cannot be overestimated.
Its tremendous untouched surrounding draws lots of tourists each season. The park's familiar trademark is the uniquely-shaped 'Hercules' Budgeon' rock. Those who favor caves' exploration or green areas may also find something interesting in Ojcow National Park.
The reserve preserves great deal of kinds of rare fauna representatives like hawks, woodpeckers or kingfishers. Remember also to travel to the wonderful Pieskowa Skala Castle while you're in Ojcow National Park.